How do I test RCD?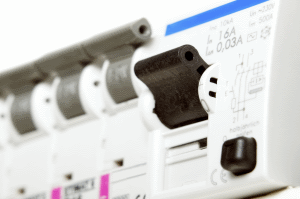 13 Nov 2017
Under Australian Standards and WHS regulations, two tests are required on a regular basis to ensure the correct function and operation of your installed RCD's. A Push Button test and a Trip Time test.
Push Button tests are exactly what they sound like. Each RCD has a test button, and in accordance with Australian Standards that test button needs to be pushed to simulate a fault on a 6-monthly basis. This not only "exercises" the RCD, but ensures the RCD will switch off the power to that circuit in the event of an incident. If the RCD does not trip when the test button is pushed, the RCD requires urgent replacement as it will not operate in the event of an incident. No formal competency or training is required to complete a Push Button RCD test.
Trip Time tests check the speed the RCD operates in the event of an incident. Australian Standard 3760:2010 stipulates maximum trip times to reduce the impact of an electric shock. Specialist test equipment is used by either a technician deemed competent or an electrician, to measure the trip time when a fault is simulated. A technician deemed competent will simulate a fault from a power socket outlet on each circuit, whilst an electrician will simulate a fault directly at the switchboard. Whilst both methods will identify RCD faults, the practice of simulating faults directly at the switchboard elevates risk as the switchboard cover needs to be removed exposing a live switchboard.
ATS strongly recommend RCD testing is completed "in the field" by simulating a fault from a power socket on each circuit. This ensures the safety of the technician and eliminates the significant risks associated with electricians working on live switchboards.
Should be looking for a solution to eliminate the risk associated with RCD testing directly at the switchboard, you may wish to check out Rapid Test Systems innovative RCD testing device.