Franchising for success!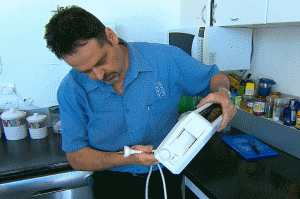 Apr 28, 2010
Why do so many small businesses fail? Could it be that as 'The Boss' suddenly everything rests on your shoulders? You are now not only the Managing Director, but also the Receptionist, Sales Rep, Marketing Analyst, Accounts Clerk, Debt Collector, IT Guru, Office Clerk and Chief Cook and Pot Washer? How does this leave you any time to work on your business strategy and become an expert in your new chosen field, all while trying to keep all the balls in the air and build a successful business?
Having been in that situation themselves, when Ainslie and Sarah Allen decided to franchise their Electrical Safety Testing business, they wanted to provide a total administration service for their franchisees. "We know how difficult it can be managing conflicting priorities when you are a sole operator. On one hand, you can get so bogged down with invoicing and admin that your business and customer service can start to suffer. And on the other, as your customer service comes first, invoicing and debt collection gets overlooked and cash flow screams to a halt. We didn't want that to happen to our franchisees or our valued customers. We wanted our franchisees to focus on their core business - servicing their clients' test and tag requirements, and growing their local businesses".
ATS have employed a team of dedicated operational and administrative staff to ensure the franchisees businesses run smoothly. The administrative team handle all aspects of administration including data processing and test report production through to invoicing and debt collection. ATS even prepare Recipient Created Tax Invoices for their franchisees to assist with their cash flow management. In addition to this, the ATS service team liaise with ATS's clients to schedule testing services; along with managing the relationship with ATS's major national clients. ATS also handle all of the above-the-line advertising and marketing, with a sales team dedicated to tendering for national work while sourcing local leads for franchisees. This leaves ATS's franchisees free to get on with the most important aspects of their business - servicing existing clients and growing their business at a local level.
ATS franchisees Megan and Ken Black from Canberra say that the administration support provided by ATS was a major factor that attracted them to system. "Being new to business we were looking for the support of a franchise system. With the professional team at ATS Head Office managing client reporting and billing, as well as national tendering for the franchise network, we can focus on providing the very best face-to-face experience in our community. We believe that is what will set us apart from our competition."
Chetan Khemlani from Sydney is also very impressed by the level of service provide by ATS. "I believe that the support provided by the Franchisor is imperative to a Franchisee's success particularly in growing their own customer base. As ATS is an evolving network, the central support provided by the franchisor is customised to each Franchisee's needs and based on their feedback. This has certainly helped me by allowing me to dedicate my time to finding new customers and to providing the best possible service to my existing customers."
Nathan Brown, one of ATS' longest serving franchisees and Chairman of its Franchise Advisory Council believes that the support provided by ATS, in particular the Invoicing and Debt collection service, is integral to the success of his business. "Apart from taking away the headaches of chasing payments in what is currently a particularly challenging financial climate, this service ensures a steady cash flow for my business and peace of mind for my family".
In addition to helping its franchisees, another benefit of ATS of having a central support office is the ability to secure and manage large national contracts. Unlike many of its competitors, the ATS support office staff manage the entire sales, scheduling and reporting process for its National clients. Through regular communication with its clients, ATS also effectively monitors customer satisfaction by actively seeking customer feedback. This feedback is fed back to its franchisees, ensuring the network continually improves its service delivery and customer satisfaction promises.